Are you looking for guidance on how to effectively prune your plum tree? From cuts to canopy care, this 2023 guide will provide a step-by-step overview of the best practices for proper plum tree pruning. Taking the time to properly assess and trim your plant can mean the difference between a healthy, flourishing tree and one that's struggling or even worse – dead.
This comprehensive tutorial will cover all aspects of maintaining your plum tree to ensure its health and beauty for years to come. Well, discuss why it's necessary, when is the optimal time for pruning, what tools are needed, which cuts should be made, as well as other important considerations such as pest control and fertilization.
Get ready to learn everything there is to know about taking care of your precious fruit-bearing companion!
Supplies for Pruning a Plum Tree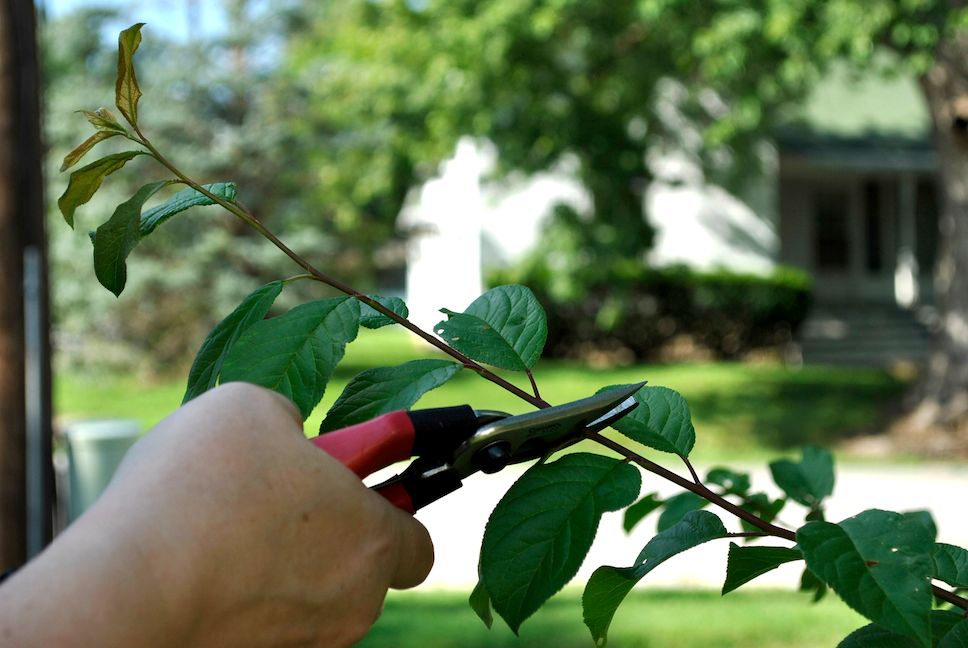 When it comes to pruning a plum tree, the right supplies are essential. Having an assortment of tools on hand, from loppers and saws to secateurs and rubbing alcohol, can make the job easier and help you achieve better results.
Pruners should always be sharpened before use to ensure clean cuts that don't damage the branch or leave any ragged edges. If possible, invest in ergonomic models as they reduce fatigue when working for extended periods.
Additionally, it's important to have protective clothing such as gloves and safety goggles available during pruning season as debris may fly up into your face or eyes when cutting back branches. Rubbing alcohol is also useful for sterilizing cutting blades between uses – this prevents the potential disease from spreading throughout the tree canopy structure.
Finally, having basic first aid materials close by like bandages or antiseptic cream is recommended in case of accidental injury while tending to your tree's needs!
Establishing the Right Time to Prune Plum Trees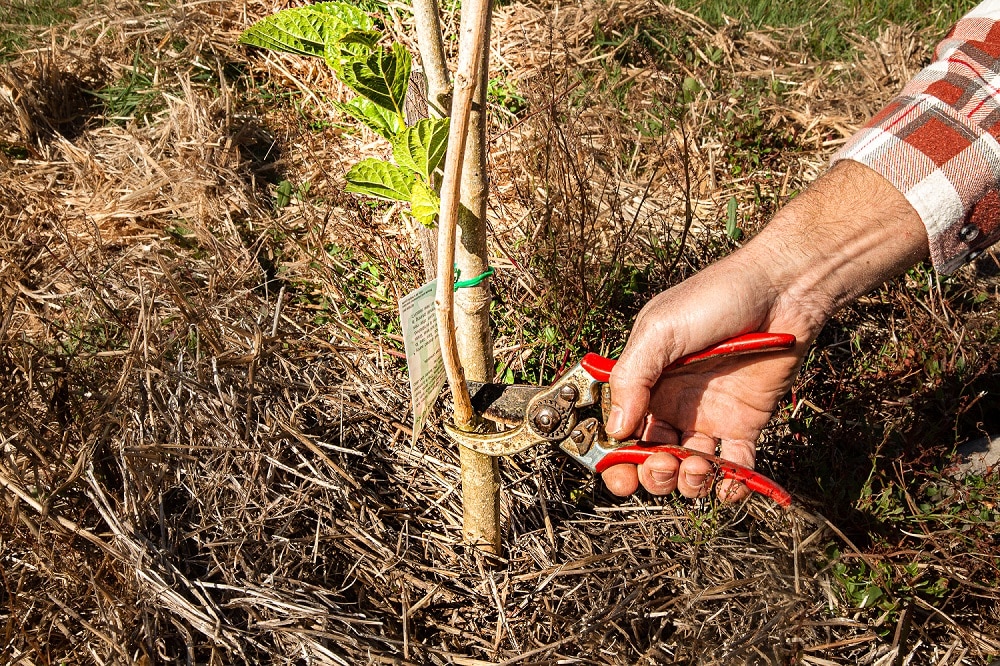 Pruning plum trees is a necessary part of maintaining a healthy, productive tree. Knowing when to prune can be tricky, however, as the timing depends on several factors such as the age and health of the tree.
To ensure that your plum tree is properly pruned for optimal growth and fruit production, it's important to understand when to make cuts to establish a strong canopy. The most ideal time for pruning plum trees is during late winter or early spring before any new growth begins.
This allows you to see the structure of your tree clearly and make accurate cuts based on its shape. If you missed this window, summertime pruning may still be an option depending on how much new foliage has emerged; if too much has grown in already then summertime pruning will only lead to more drastic measures later down the line.
When making cuts, it is important not just consider where but also how much should be removed from each branch – while some thinning out is often required for light penetration into all parts of the crown and promote fruiting wood formation, over-pruning can result in stunting or even killing off branches completely which would have otherwise been beneficial for future fruit yield! Additionally, identifying deadwood (or damaged areas) should also form part of your regular inspection process so any unnecessary weight can quickly be removed without risk of causing further damage or interfering with photosynthesis processes within your canopy care routine.
Making Cuts and Removing Dead or Diseased Branches
Making cuts and removing dead or diseased branches is a key part of any plum tree pruning routine. Before making any cuts, it's important to inspect the tree for signs of damage or disease.
If you spot any tell-tale signs, such as underdeveloped foliage, discoloration on leaves or bark, or fungal growth around the trunk, you should take steps to remove these areas immediately. When it comes time to make cuts, start by trimming away weak and/or crossing branches with hand loppers.
Make sure that each cut is clean and close to the main branch collar – this will help promote healthy healing afterward! Once all necessary cuts have been made, use anvil pruners for larger tasks such as shaping your canopy into its desired form. Finally – don't forget to sterilize your tools before and after each use for optimal hygiene! With these simple steps in mind – you can rest assured that your plum tree will be enjoying a neat look come next season!
Shaping Canopies for Maximum Growth and Fruit Production
When it comes to shaping canopies for maximum growth and fruit production of plum trees, several steps must be taken. Pruning is an important part of the process, as it helps promote healthy growth and reduces the risk of disease. It also opens up the canopy so more light can reach all parts of the tree.
To begin pruning, start by removing any dead or damaged branches with sharp pruners or loppers. This will help prevent competing branches from growing too close together and ensure adequate airflow through the canopy.
Once this step is complete, carefully assess each branch's structure; if necessary adjust its positioning to create optimal branching angles for strong support and even distribution throughout the tree's frame. When done correctly, proper pruning encourages strong lateral branching which allows for better utilization of sunlight while still providing enough foliage for protection against inclement weather conditions like windstorms or heavy rains.
Furthermore, trimming off unwanted shoots at specific intervals around your tree's circumference will open up additional space inside its canopy allowing more air circulation into fruits and flowers leading to bigger harvests come harvest season! Finally, don't forget to monitor your plum trees' progress over time since improper pruning techniques can cause lasting damage that may take years to recover from – something no gardener wants!
Maintaining Your Plum Tree with Regular Care
Maintaining your plum tree with regular care is essential to create a healthy and vibrant canopy, free of disease. Pruning helps to encourage new growth while controlling the size and shape of the tree.
The 2023 Guide provides step-by-step instructions for pruning your plum tree from making the right cuts to caring for its canopy. It covers everything from when to trim, what type of tools you'll need, how to identify dead wood and weak branches that must be removed, as well as how much foliage should remain on each branch after pruning.
This guide will also provide tips on proper fertilization techniques to maintain soil fertility and promote strong health within your plum tree root system. With these simple steps, you can ensure a happy, thriving fruit-bearing plum tree year-round!
Conclusion
So in conclusion how to prune a palm tree? Pruning a plum tree is essential for its health and aesthetics. By following the steps outlined in this 2023 Guide, you can easily learn how to prune your plum tree from cuts to canopy care.
Starting with removing dead and damaged branches, then thinning out overcrowded limbs, before finally shaping the canopy of your tree will ensure it looks healthy and vibrant throughout the season. Additionally, if done correctly, pruning your plum tree one time can help promote better flowering and fruiting.
With proper care and attention to detail when pruning a palm tree one time, you can be sure that your beautiful fruit-bearing trees will remain healthy for many years to come!