In recent years, music merch has become increasingly popular amongst fans of all ages. From t-shirts to hoodies and hats, the demand for vintage band t-shirts has skyrocketed in the past few years.
But why are these vintage band t-shirts so popular? In this article were going to take a look at the power of music merch and how it can reveal the popularity of vintage bands today. Well, explore how these items embody nostalgia, fandom culture, and even fashion trends among modern-day consumers.
With an array of designs from classic rock legends to modern hip-hop stars, there's something for everyone when it comes to owning a piece of history with these timeless pieces. So join us as we delve into The Power of Music Merch Unveiling the Popularity of Vintage Band T-Shirts!
Exploring the Appeal of Vintage Band T-Shirts
Vintage band t-shirts have become a highly sought-after trend among fashionistas and music connoisseurs alike. For many, these garments are more than just a piece of clothing; they represent an era of music that has been forgotten by time.
This article will explore the appeal of vintage band t-shirts and why they remain popular among so many fans today. The first factor in the popularity of vintage band t-shirts is their nostalgia value. Many people who grew up in an era when this type of garment was commonplace appreciate the memories associated with it, from seeing their favorite artists perform live to attending festivals or concerts wearing them proudly as part of a crowd.
The second factor is that some people simply prefer the look and feel of vintage apparel over modern alternatives; it's far easier to find unique designs or rare prints on vintage pieces than anything else available today. Thirdly, there's something special about owning something tangible that serves as a reminder for your fandom – whether you're showing off your appreciation for your favorite musicians at events or simply wearing it around town as a conversation starter, having such items can be very meaningful.
Examining How Music Merch Has Evolved Over Time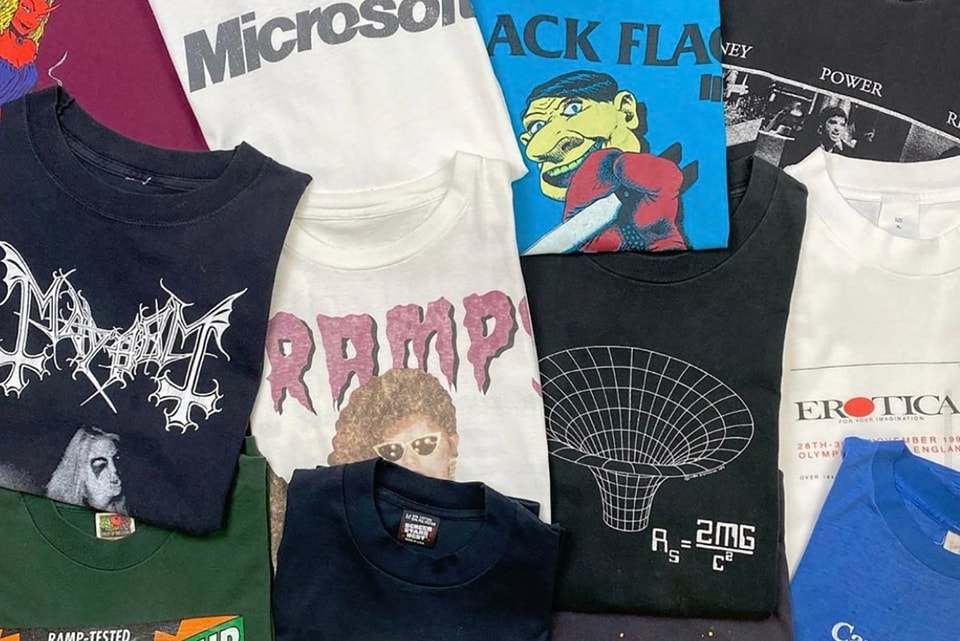 From classic concert t-shirts to modern streetwear, music merch has come a long way over the years. The Power of Music Merch Unveiling the Popularity of Vintage Band T-Shirts examines how far it evolved and what makes it so popular today.
When looking back at vintage t-shirts from legendary bands like Led Zeppelin or The Rolling Stones, one can see that these designs were often simple but iconic. It was a time when simply wearing a band's logo as an everyday statement was enough to identify yourself with the group you supported.
Such minimalism allowed fans of all ages and backgrounds to show their love for their favorite acts in a subtle yet stylish way. However, today's music merch is much more intricate and varied than ever before; there are now countless styles available for almost every type of performer imaginable – from rap stars such as Travis Scott to indie rock groups like Mac Demarco – something unheard of before this generation.
As well as shirts, other types of merchandise have also become increasingly popular: hats featuring unique embroidery designs, limited edition vinyl releases, and even custom sneakers are just some examples that demonstrate how diverse contemporary music merch has become compared to its predecessors in decades past. The Power Of Music Merch Unveiling The Popularity Of Vintage Band T-Shirts delves into exactly why this phenomenon continues to be so widespread among both mainstream audiences and niche fanbases alike, whether it be due to nostalgia or simply fashion trends – ultimately proving that no matter what era we're living in, music remains an incredibly powerful force within our culture!
Uncovering the Power of Music in Popular Culture
The power of music in popular culture can be seen through the rise and popularity of vintage band t-shirts. Music merch has become a staple for fans to show their appreciation for bands, as well as an iconic way to represent one's favorite artist or group. With so many different types of music out there, it's no surprise that vintage band t-shirts are a go-to choice for musical expression.
From classic rock groups like The Rolling Stones to modern-day favorites such as Lady Gaga, there is a variety of genre-specific designs available on these timeless shirts. Furthermore, each design carries with it its own unique aesthetic and style; showcasing the powerful influence that music has had on our lives and culture over the years.
When donning these vintage tees we are presented with countless opportunities to express ourselves while simultaneously paying homage to some of our favorite musical artists from days past and present-day alike. Whether you choose your favorite band's logo or just appreciate the artwork featured on them, these pieces provide us with something tangible that symbolizes our fandom – all while making fashion statements at the same time!
Conclusion
In conclusion, Vintage Band T-Shirts are a popular form of music merchandise, demonstrating the power of music for creative expression and connection. They provide an opportunity to show support for a favorite artist or band while also connecting with fellow fans in unique ways.
Whether it is wearing your favorite vintage shirt to a concert or collecting rare designs from past eras, these iconic pieces of apparel offer something special that cannot be found anywhere else.